We are pleased to announce the launch of the brand new wellbeing toolkit from Edtesa.
Workplace wellbeing is now a high priority for all business owners to address in response to the impact of remote working, burnout and the mental implications of how the pandemic has affected our day to day lives.
Edtesa Wellbeing provides an intelligent focus for any organisation's wellbeing strategy and is there to support management with understanding their organisation and staff better. This toolkit empowers a management team to pose questions to staff in a simple slider survey and use that data to build a "wellbeing temperature map" of their workforce. That data can then be analysed through a dynamic dashboard to identify trends to shape intervention, with the tool providing supporting resources to underpin your strategy.
Ken Corish (Director of Edtesa) says:
Workplace wellbeing is front page news right now and, no doubt, has been a long overdue topic for discussion. But while many of us want to address it, there's very little guidance on how to achieve an effective response. Many of us may read about innovative ways to support wellbeing but it is not always going to be applicable and relevant to your workforce. Our award-winning expertise in developing self-review mechanisms has allowed us to consider the importance of self-review as a process for establishing a roadmap for improvement. We understand that giving staff the opportunity to respond as individuals can direct that journey and was the driver behind the development of Edtesa Wellbeing.
Valuable internal insight
There are aspects of your business, which unfortunately you have little control over. How your employees respond to internal practices is very much down to who they are as individuals. Along with this, understanding where the problems lie is a challenge that many business owners face when trying to ensure positive employee satisfaction and wellbeing. 
Edtesa wellbeing allows staff to give honest, anonymous feedback. Management can set up their own surveys with predetermined questions, written by our award-winning team of writers and distribute out to their workforce via email. The surveys are simple and short with users recording their responses on a confidence scale slider. The questions cover a wide variety of aspects that include:
Working environment
Staff morale
Physical health
Communication
Mental health
Education
Example questions include:
Do you feel you are supported at work?
Rate your overall mood when you are at work?
Do you feel like you have a good work life balance?
I feel safe when I am at work
I feel there is enough space at work for me to carry out my role effectively
I know how to report any physical health issues I might have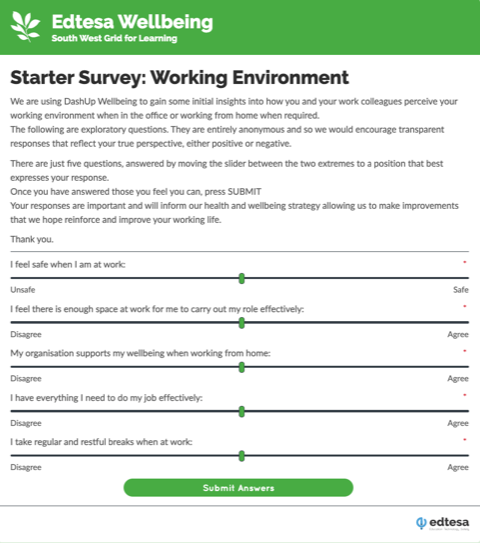 Analysing the data
Edtesa wellbeing will gather up your employee feedback and analyse the responses. The tool allows you to see where your strengths and weaknesses lie by illustrating your average results through interactive diagrams. Each aspect of your organisation will get a score based on the feedback received from staff. If the score is high, you're doing pretty well in that area, but if it comes up low then it may need addressing.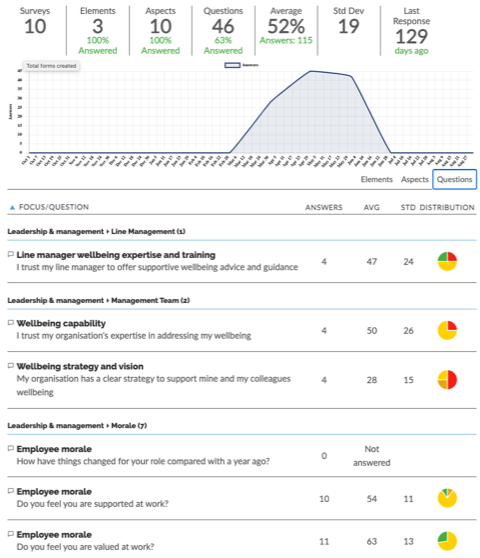 The diagrams are interactive so you can monitor scores with ease. Management can also see the minimum and maximum scores for each section as well as how many people answered. The analytics side of Edtesa wellbeing offers in-depth insight into your organisation with a wide range of data available for analysis. Ensure you explore every feature to get the most out of it.
How to respond?
Data is one thing but how can you adapt and make necessary changes to your practice? Edtesa wellbeing not only advises where attention is needed, but offers the correct guidance and downloadable resources to support. The tool offers the latest guidance curated across a range of external resources that include government advice; current legislation and thought-leadership articles. These are mapped to your survey results so you don't have to trawl the internet to find relevant guidance.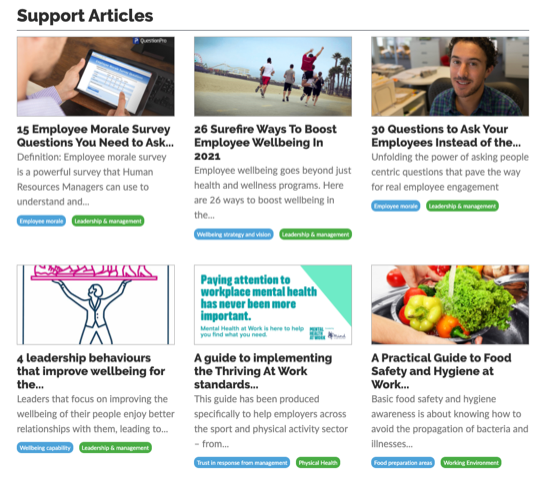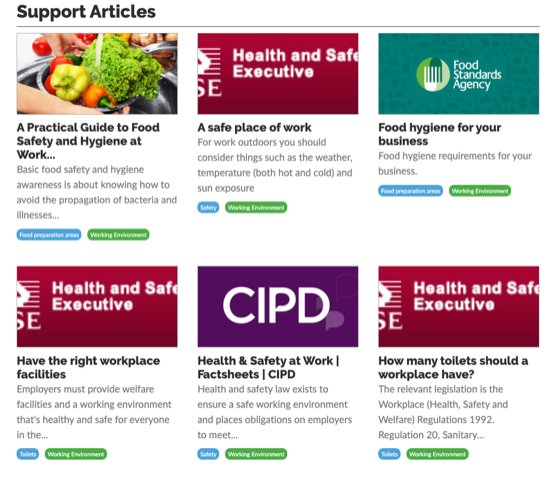 If any of your workforce need to share concerns directly with you in a safe and secure environment, the tool also provides an innovative anonymous/confidential reporting mechanism that also includes anonymous messaging. If a specific individual or group are noticeably struggling, extending a safe and reliable line of communication to encourage active discussion can work towards building a strong support base.
Taking the time to address your staff concerns can lead to a better working environment and can prevent damaging factors such as high staff turnover, burnout and a negative reputation.
If you would like to try this new feature and experience how it can assist your organisation, find out more here: