How Dashup works
Report
Staff report concerns via SMS or online forms.
Alert
A detailed email alert is sent to management.
Respond
An anonymous two-way conversation can start.
How does it work?
Users can contact you anonymously using a web link or via an SMS text message.
How is it anonymous?
Dashup relays text messages without personal details unless given by employee.
How can I manage this?
Dashup keeps all reports in a central hub that you can easily manage & organise.
How do I monitor reports?
You will receive an immediate email notification when a new report comes in.
The benefits
Dashup develops ongoing peace of mind within the workplace
Gives employees confidence
Quicker responses to concerns
Offers a support helpline
Improves safety & security
Gives valuable internal insight
The Features
Anonymous reporting

Detailed email alerts 

Secure two-way conversations

Central management hub 
What our customers have to say
Satisfied Customer
"This service is fantastic! It keeps us up to date with text alerts on issues in the workplace by email and SMS to ensure that our staff are well protected and have someone who can help them."
Satisfied Customer
"This is a great tool, it provides alerts on issues in the office by email and SMS to ensure that our staff are well protected"
Satisfied Customer
"To have this service is excellent. Staff are happy to report things face to face currently, but they know they don't have to if they are reserved."
Frequently Asked Questions
Are reports always anonymous?
Dashup can be used without entering any personal information, however, providing some information affords users convenience when trying to resolve problems. It is up to the user whether any personal information is given.
Who protects our company data?
Edtesa maintains a skilled team of developers, as well as separate security resources to monitor data security. Within this structure, planned maintenance is performed to reduce any exposure to the system.
What issues can be reported?
Staff are able to report any issue or concern they may be having in the workplace. This can include, bullying incidents, delicate personal issues, reporting of abuse or worry that someone at work is at risk.
Why is anonymous reporting important?
Staff may have concerns that they feel uncomfortable discussing in person. A new channel of communication can offer valuable internal insight of where problems are arising so you can handle them efficiently.
Find answers to more questions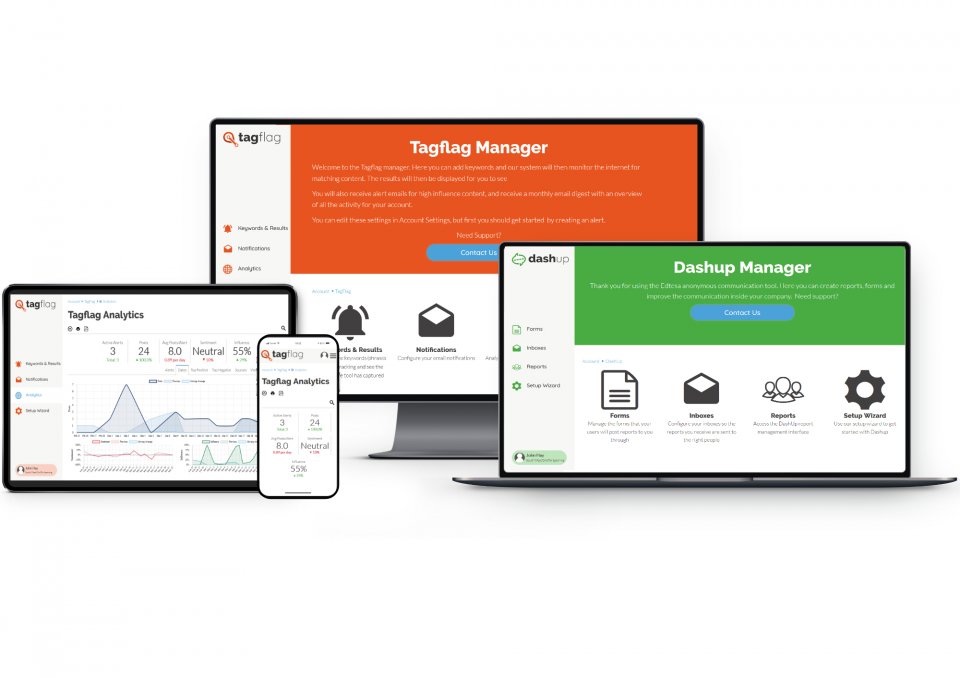 Works on multiple devices
Whether your company works on mobile devices, desktop computers or tablets, our products can meet your requirements.