Protect your business
At Edtesa, we understand that getting the most out of your digital experience involves a strong foundation of safety and security. That's why we've brought together the latest services to ensure your online journey is protected from the start.
Simple, effective, and affordable security solutions
Whether you're looking to protect your data or educate yourself on the latest security guidance, we have the latest security best practices and security services to support your business.
Data protection officer
With data protection laws constantly changing, translating these requirements into your business can be confusing. Instructing a Data Protection Officer takes the hassle away, keeps your organisation one step ahead and helps demonstrate your commitment to securing personal information.
Ensure compliance
Do you know whether your business has the right approach to data protection? Our DPO service gives you access to an independent expert to save you time and help avoid costly mistakes.
Win contracts
Having a DPO will enable you to answer due diligence questions from prospective customers who want assurance. Allow yourself to win important customer contracts when others can't.
Get help
If you already have a DPO - great work! It's always beneficial though to seek extra help and support on a topic that is constantly changing. Just need advice? We can help there as well.
Keep it simple
Choose our service and get a wealth of experience and knowledge from a leading expert. Take the hassle out of data protection and run your business without worry.
Security software
With 4500 successful daily cyber attacks on UK businesses, falling victim to any one of them could mean your company data is severely compromised. Reduce the threat, minimise the impact and stay protected with our competitively priced options from Bitdefender.
Protect your systems and devices
Our products protect your devices from malware, ransomware and other threats. They also help you detect and recover from an attack if your systems and devices ever fall victim.
Protect your staff and customer data
Secure data on your devices with encryption that prevents unauthorised access to your customer and personal data. Protecting your database is a vital practice in any organisation.
Don't fall victim
Protect against Phishing and Ransomware with layers of protection above anti-virus alone. Setting up security can ensure you don't fall victim to common cyber attacks.
Maintain peace of mind
Knowing that your devices and servers are protected and will continue to run at optimum performance, whether cloud-based, or physical can provide peace of mind to your company.
Select the right cover for you
By teaming up with Bitdefender we've been able to negotiate great pricing for GravityZone products. Click on the link below to find out more.
Cyber security training
Human error is involved in 90% of all successful security breaches.  Reduce the risk of this happening to you with Cyber Awareness Training and email protection from Mimecast. Knowing how to prevent and respond to issues can reduce the likelihood of a successful attack and lessen the impact even if the attack is successful. 
Positively shift culture
Training should change the culture of your business, not be perceived as an obstacle. Our training, provided by security experts Mimecast, is designed to engage staff and reduce risk.
Engage your staff
Training is always more effective when it's memorable and funny. Our humorous training, for just 3 minutes every month, will entertain and educate, whilst helping your staff protect your business.
Get insights from the dashboard
Get access to real-time information about your employees' understanding. Use this to develop a self-review process that ensures you know you're making your business safer.
A wide range of topics
Phishing, Ransomware, CEO fraud, Office hygiene and Data in Motion. There's a huge range of topics, all designed to help protect your business and demonstrate compliance.
Choose the right bundle for you
With four bundle options, we're sure you can find a package that suits your needs providing great security at a reasonable cost. Securing your data is important, but it shouldn't cost the earth. Click the link below to see our options and protect your systems and data from attack.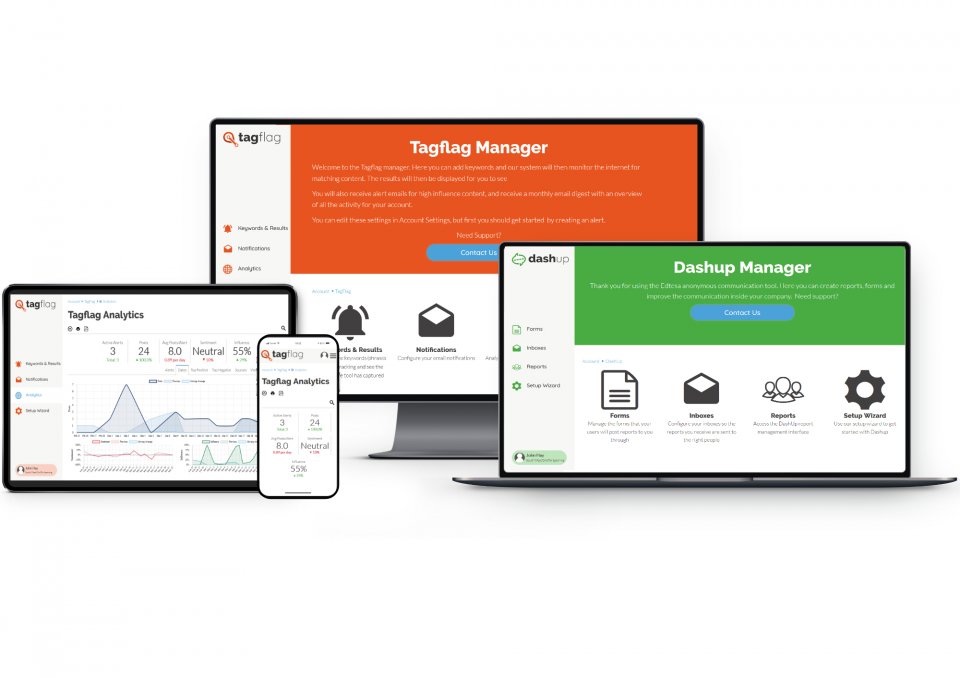 Across all devices
Whether your company works on mobile devices, desktop computers or tablets, our products can meet your requirements.