How Tagflag works
24/7 tracking of your online mentions
Email notifications and detailed reports
Breakdown of reputation
What can you monitor?
Create your keywords to review anything from a company name to a product
How do you stay informed?
Receive detailed email alerts about new online mentions and when they occurred.
How is data explained?
Receive a detailed timeline to clearly illustrate your online reputation.
How do you find out more?
Search for the source with direct links to social media, online publications and news.
The benefits
Illustrates what is successful
Keeps you ahead of competition
Negativity can be managed
Offers valuable external insight
The features
Email notifications
Specific keyword/phrase monitoring
Up to 5 variations on each keyword/phrase
Sentiment & influence metrics
Direct links to source material
Analytics for spotting trends
Frequently Asked Questions
How often do I receive alerts?
TagFlag allows you to customise your own preferences when it comes to reviewing your online mentions. Daily, weekly, monthly, it's entirely up to you!
How do I know my keyword is effective?
TagFlag will guide you on how to create a good keyword whilst illustrating how your matches will be searched.
How can I see where the mention came from?
Each alert comes with a direct link you can access. Clicking on it will take you to the source of the mention online.
What is sentiment & influence?
Sentiment refers to the tone of the mention whether it be positive or negative whilst influence shows the impact of the mention.
Find answers to more questions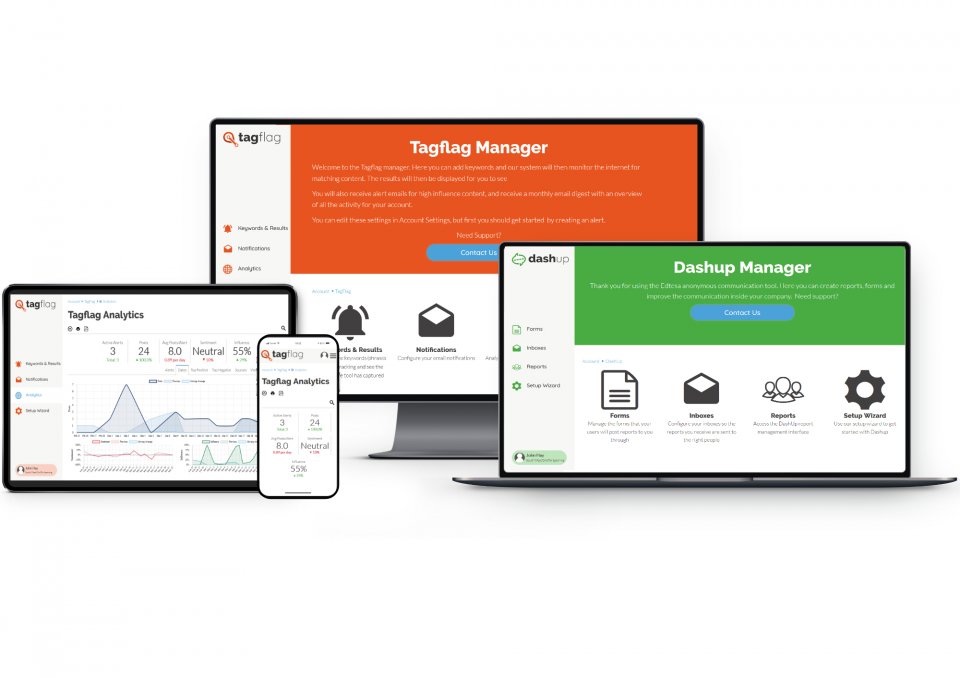 Works on multiple devices
Whether your business uses mobile devices, laptops, desktops or tablets, Tagflag is accessible wherever you are.